George Davies has had a huge influence on the retail industry. Launching brands like Next, George at Asda and Per Una, to name just a few. He is a true force in the fashion world.
After seeing the success of the website we designed and created for his brand FG4 London, George was very keen for us to redesign and modernise his own website too.
Looking through George's catalogue of work, it's not hard to see how his advanced ideas and eye for design made such an impact on the world of retail. This designer quality is reflected in the look and feel of the website itself. We chose a dark charcoal colour for the background of the website as well as a clean, minimalist layout, creating a modern and sleek look on every page. Bold imagery and clear text were chosen for ease of navigation through the site to find out everything you need to know about George Davies.
It was important to show off his achievements not only in business but in his charity work; with a page dedicated to detailed information and links to each charity George has worked with and contributed to.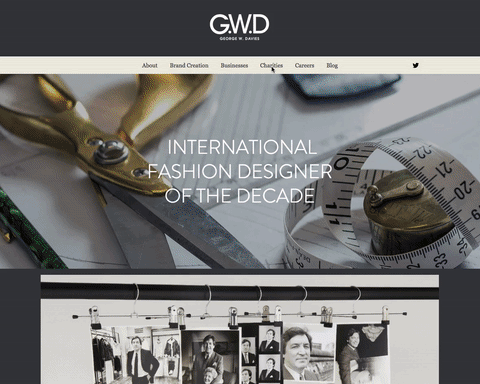 If you would like to learn more about George and see our latest web design for yourself, visit www.georgedavies.com today!